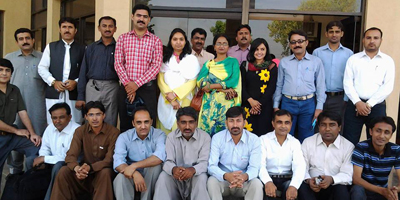 JournalismPakistan.com June 07, 2013
ISLAMABAD: Thirty six journalists from across the country specializing in writing on environmental issues joined a media capacity-building workshop arranged here Friday (June 7).

The training has been organized by the National Council of Environmental Journalists (NCEJ) with the support of Society for Conservation and Protection of Environment (SCOPE) Pakistan, National Peasants Coalition of Pakistan-Pakistan-Kisan Sangat (NPCP-PKS), International Land Coalition (ILC), OXFAM-Novib, Land Watch Asia and Asian NGO Coalition for Agrarian Reform and Rural Development (ANGOC).

The training will continue Saturday at Margalla Hotel, Islamabad.

All the participants are members of NCEJ which enrolls journalists after a comprehensive assessment and evaluation process. The members who fail to produce significant number of stories on environmental issues over a period fear losing their membership.

NCEJ is a non-formal group of journalists from 27 cities of Pakistan. They are attached with 31 media houses and are reporting in 11 different languages.

The workshop aims to gather media representatives who have solid experience and interest in writing articles, cover stories, blogs, talk shows etc on the issues of land rights, agrarian reforms, food security, poverty alleviation and environmental development.

"It is heartening to note that our media has matured and our journalists are finally diverting their energy to real issues," says Amar Guriro, co-founder and president of NCEJ and lead trainer at the training. He told JournalismPakistan.com that the organizers received 740 applications from aspirants but only 36 could be shortlisted.

SCOPE CEO Tanveer Arif briefed the participants on the politics of land reforms and lack of land ownership rights and how both have compromised food security in Pakistan. He welcomed the participants to the training and, on behalf of his organization, offered to extend any kind of help they needed in producing quality content on the topic.

The participants include Khatau Jani (KTN News, Tharparkar), Amar Guriro (Daily Times, Karachi), Riaz Sohail (BBC Urdu, Karachi), Jamil Nagri (Gilgit-Baltistan), Abdur Razzaq (PACT Radio, Peshawar), Vikram Veer (Geo News, Tharparkar), Shazia Nisar (ARY News, Peshawar), Zooma Mir (Daily Pakistan, Peshawar), Bari Baloch (The Nation, Quetta), Shahzada Irfan Ahmed (The News, Lahore) and others.