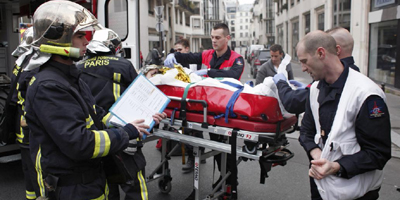 JournalismPakistan.com January 07, 2015
PARIS: Heavily armed gunmen shouting Islamist slogans stormed a Paris satirical newspaper office Wednesday and shot dead at least 12 people in the deadliest attack in France in four decades.
Police launched a massive manhunt for the masked attackers who reportedly hijacked a car and sped off, running over a pedestrian and shooting at officers.
Police said witnesses heard the attackers, who were armed with a Kalashnikov and rocket launcher, shout "we have avenged the Prophet" and "Allahu Akbar" (God is greatest).
Two police were confirmed among the dead and four people were critically injured.
The capital was placed under the highest alert status after the attack on Charlie Hebdo, a satirical weekly that has sparked anger in the past among Muslims for publishing cartoons of the Prophet Mohammad.
Television footage showed large numbers of police in the area, bullet-riddled windows and people being carried away on stretchers.
The attack took place at a time of heightened fears in France and other European capitals over fallout from the wars in Iraq and Syria where hundreds of European citizens have gone to fight alongside the radical Islamic State group.
President Francois Hollande, who immediately rushed to the scene of the shooting, described it as a barbaric terrorist attack.
"An act of exceptional barbarism has just been committed here in Paris against a newspaper, meaning (against) the expression of liberty," Hollande said at the scene.
One man who witnessed the shooting said he saw two attackers shooting their way out of Charlie Hebdo at around 11:30 am (1030GMT).
"I saw them leaving and shooting. They were wearing masks. These guys were serious," said the man who declined to give his name. - AFP
Photo: AP